Title: Early life fecal microbiome and metabolome dynamics in response to an intervention with infant formula containing specific prebiotics and postbiotics
| | |
| --- | --- |
| Authors: | A. Rodriguez-Herrera et al. |
| Published: | 2022 |
| Journal: | American Journal of Physiology – Gastrointestinal and Liver Physiology |
"Early life fecal microbiome and metabolome dynamics in response to an intervention with infant formula containing specific prebiotics and postbiotics", published in American Journal of Physiology – Gastrointestinal and Liver Physiology.
In this publication we continue to research postbiotics (the latest discovery in the biotics family) by using new research approaches, such as metabolomics techniques.
The research was performed on samples originating from a randomized, controlled, double-blind clinical study that assessed the effects of a specific infant formula with both our prebiotics and postbiotics (the LIFE study).
The results showed an expanded "snapshot" of the microbial ecosystem when high-resolution metabolomics profiling is combined with physiological measurements and 16S rRNA gene amplicon sequencing. This approach can help to further decipher the complex interactions of early life nutrition and gut microbiome development and their connection to early life health.
The studied infant formula triggers responses in the microbiota composition that ultimately keeps the fecal metabolite profile closer towards that observed in breast-fed infants.
The research was conducted in collaboration with various hospitals in Italy and Spain.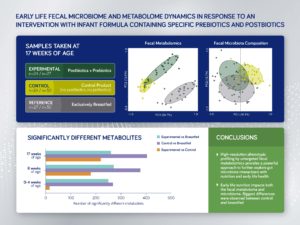 For over 50 years we have carried out pioneering research into gut development and function, as well as the modulation of the gut microbiota through nutrition. We have done so in collaboration with international partners as we believe a collaborative approach brings strength and depth to all our research, innovation and technology programmes.
Learn more about research into Gut and Microbiology here
Learn more about postbiotics here