Title: Essential Knowledge Briefing: The biotics family in early life (second edition)
| | |
| --- | --- |
| Authors: | Salminen S., Szajewska H., Knol J. |
| Published: | 2023 |
| Journal: | The biotics family in early life. Essential Knowledge Briefing. Wiley (2023) |
The Biotics Family in Early Life examines the role of 'dietary biotics' in supporting the development of a healthy, balanced gut microbiota and immune system.
The first edition was launched in 2019, and now the 2nd edition with updated references and definitions is available.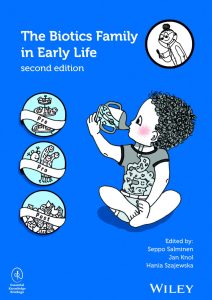 Danone Research & Innovation and the academic publisher, John Wiley & Sons, Ltd. have been partnering since 2014, with this book being the fourth in a series of Essential Knowledge Briefings on nutrition in early life. The Biotics Family in Early Life is intended as a practical guide for healthcare professionals, who work with infants and their families.
Book 1 highlighted the gut microbiota and its importance for infant and future health,
Book 2 focused on functional gastrointestinal disorders and digestive problems in pregnant women and infants,
Book 3 discussed the impact of foetal and infant nutrition on growth
Click here to read more on these previous booklets.
For The Biotics Family in Early Life we partnered with leading experts in the fields of paediatrics and gut microbiology to publish this educational resource. The editorial team included Professor Seppo Salminen (Professor, Director Functional Foods Forum, Faculty of Medicine, University of Turku, Turku, Finland); Professor Hania Szajewska (Professor and Chair, Department of Paediatrics, The Medical University of Warsaw, Warsaw, Poland) and Professor Jan Knol (Professor of Intestinal Microbiology in Early Life, Wageningen University / Sr. Director – Gut Biology & Microbiology, Danone Research & Innovation, The Netherlands).
To download a copy of The Biotics Family in Early Life, please visit:
Learn more about our research into Biotics here: Leading the way with biotic research | Danone Research & Innovation