We believe that today, more than ever Science is changing the World. For this reason, it is important that science is explained in a simple and interactive way to as many people as possible.
At the Danone Global Research and Innovation Center in Paris-Saclay, we have developed an innovative and immersive way to explain the science behind our products. We partnered with great teams at Healthskouts, Nozon – The Pack and ExecutXR, who helped us to create FLUX, a virtual reality program that allows users to explore the complex world of the gut microbiome.
We chose virtual reality as this technology allows to create immersive, living experiences, which ensures active listening and increases engagement. Virtual reality professionals quote this as "emotional learning".
On a journey through the gut
The virtual reality program is set up in an immersive booth with premium equipment, providing visitors an extraordinary experience.
With this tool we now are able to take visitors on a journey through the gut and show them what they will not be able to see otherwise.
The first two chapters developed in the program focus on the gut microbiota and our Danone strain collection.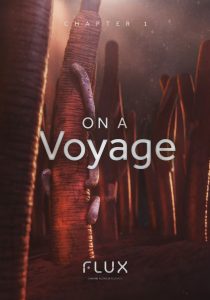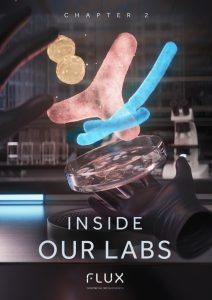 Our first chapter: On A Voyage, is an immersive journey along the gut to discover the key role of our gut microbiota in our health. Microbiota is a key research topic at Danone Research & Innovation, its richness and diversity are some of the main markers of a healthy gut.
Our second chapter: Inside Our Labs, is a virtual escape game in group to discover how we use our Danone strain collection to make fermented products.

Flux is a key example of how we're using cutting-edge technology for scientific purposes to further understand the impact of nutrition on health and to help us shape the future of nutrition.